Introduction
Hey all! We at CCL have been very quiet about the upcoming Spring 2022 Season. Behind the scenes, old and new staff have been rebuilding and redesigning almost everything about how CCL works as we develop what College CoD looks like for the next five years. We've given you a small taste of what eFuse has to offer collegiate via Summer and Fall events, and we're excited to unveil the future of College CoD! Below you will find SEVEN major updates to the CCL 2022 Season.
-------------------------------------------------------------------------
Yearly Roadmaps
One of the biggest updates to College CoD is a Year-Round Schedule! The Spring semester will continue to (roughly) be the January-May Regular Season that you all know and love. Once the season has ended, we launch straight into the Off-Season of May-August focused on community events like 8s and Alumni tournaments. As students return to campus and teams begin to practice and plan for the Spring Season, we begin the Pre-Season of September-December. The Pre-Season will be focused on weekend competitive events to give teams a chance to try out new players and get warmed up for the Spring when the next Call of Duty title launches.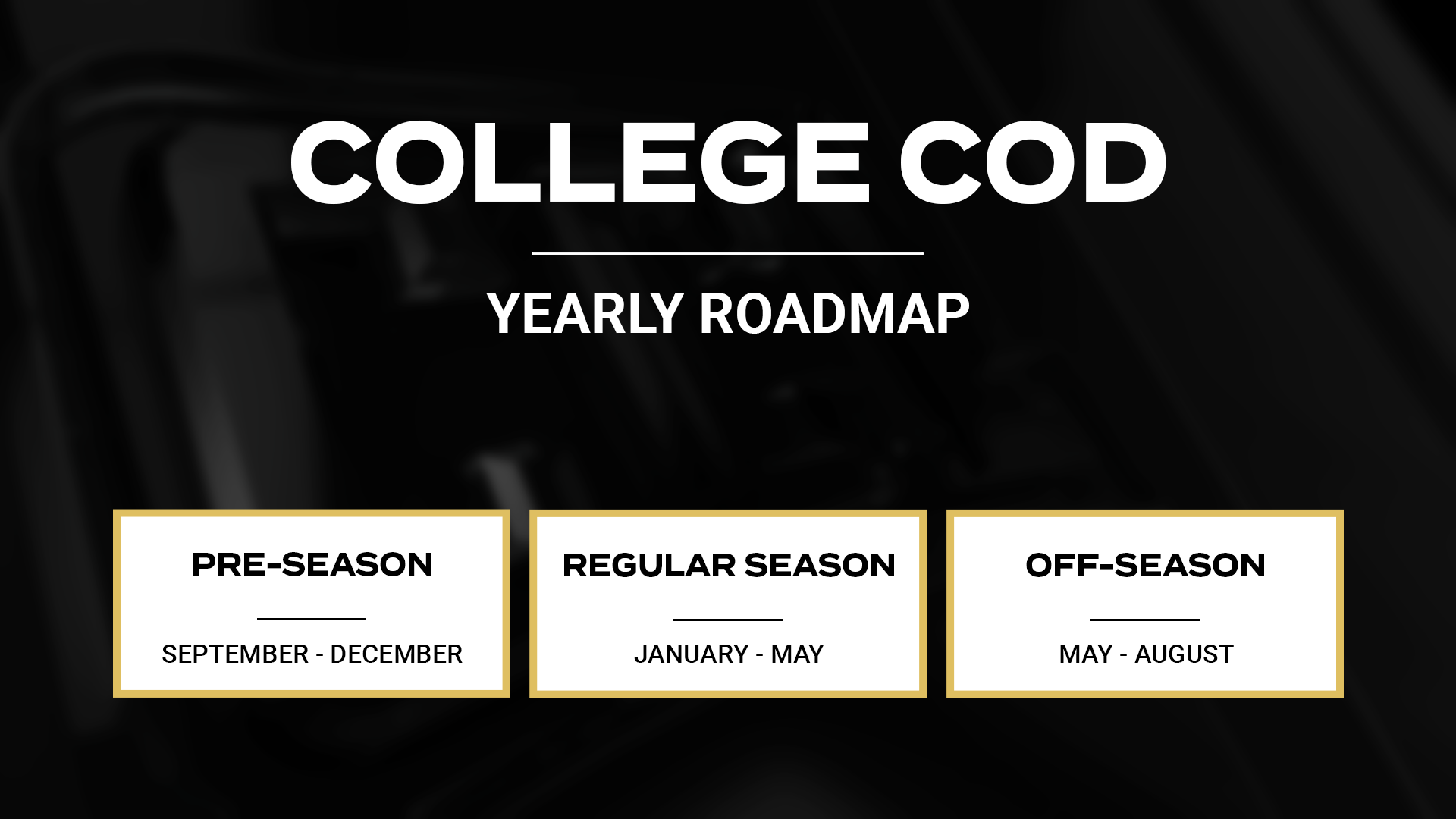 -------------------------------------------------------------------------
Registration Start Date
Registration officially launches November 16th! To kick off registration, we will be releasing a second article with more information about the registration process and the eFuse platform. Registration will close on January 6th, so make sure to sign up as soon as possible!
-------------------------------------------------------------------------
Season Schedule
Below is a brief overview of important dates to know about the future. We'll be releasing another article shortly that dives into this schedule, an explanation of "stages", and the season format.
Main League:
11/16 - Registration Opens
01/06 - Registration Closes
01/10 - Syllabus Day
01/16 - Stage 1 Begins
02/27 - Stage 2 Begins
03/20 - Spring Break Begins
04/02 - Spring Break Ends
04/17 - Last Chance Qualifier Begins
05/01 - All Stars Week
05/08 - Main Playoffs Begin
Academy League:
11/16 - Registration Opens
01/06 - Registration Closes
01/10 - Syllabus Day
01/16 - Stage 1 Begins
02/27 - Stage 2 Begins
03/20 - Spring Break Begins
04/02 - Spring Break Ends
05/01 - Academy Playoffs Begins
-------------------------------------------------------------------------
What is the Main and Academy League
Since the beginning of the league, CCL has only allowed two teams per school to compete. That technically isn't going to change, however we want to revolutionize how collegiate esports handles substitute players. Over the last two years, schools with two teams have wrestled with the problem of "what does the 5th best player do". The A team wants the 5th best player as a sub, and yet the 5th best player doesn't want to ride the bench all year while the 6th-10th best players get to play all year on the B team.
As a solution, we've developed the Academy format. If a school has only 1 team, they will continue to play in the Main League no different from last year with 4 players and 3 subs. But, if a school has two teams, they will use this new format. The A team (which will be referred to as the Main team from here on out) will only consist of 4 starting players picked by the team manager. The other 10 players will make up the Academy team. Main team players can only play in Main League matches, but Academy players can play in either Main League matches as a sub or play in the Academy League matches. This allows the 5th best player the best of both worlds. The one caveat is if an Academy player plays in a Main League match, they can not also play in the corresponding Academy League match of the same week.
If this new format is confusing to read, don't worry. We will be releasing a full article and format breakdown video dedicated to Academy that fully explains every detail of how this works. We're extremely excited to launch this new feature and can't wait to see how teams put it to use to develop rosters and talent!
-------------------------------------------------------------------------
Varsity School Benefits
One of our goals working alongside eFuse and CCA is to standardize what it means to have a Varsity program at a school, and how that status impacts participation in collegiate leagues. Over the next two months leading up to the Regular Season, we will be rolling out a Varsity Status application and approval process. Upon being approved, Varsity teams will receive non-competitive benefits for their team and their school. Our goal is to work with Varsity teams to provide benefits that make their logistics, broadcast, and content easier and better than ever before because of their investment in their teams, their students, and in our league. This Varsity status will not impact the competitive format as Varsity schools will continue to compete in Main and Academy alongside club teams. More information about this program will be released as we roll out the applications.
For any club that is working towards Varsity status at their school, CCL staff are more than happy to meet with student leaders and help you brainstorm how to achieve your goals!
-------------------------------------------------------------------------
Please note - "Varsity" is a separate designation with a separate application process. Both Main and Academy will have teams that are varsity and teams that are club.
-------------------------------------------------------------------------
Schedules and Streams
As students are planning Spring class schedules, keep in mind that match times and CCL broadcasts will continue to be Monday and Tuesday evenings for both Alpha/Bravo and Main/Academy. Specific match times for each region will be released on Syllabus Day, Jan 10th once registration has been completed, and we determine which teams are in which regions.
-------------------------------------------------------------------------
Top 25 Polls
A new year means a new chance to improve the Top 25 process. Similar to last year, College CoD will release the "Official Top 25 Rankings" across Twitter and Discord.
Once again, this year's top 25 process will be influenced by invited individuals and media entities across the collegiate Call of Duty space. However, the continued growth of the space offers a chance to include coaches and alumni in some way. Nothing concrete for these respective groups exists as of current. As this continues to be mapped out, respective interest and suggestions from coaches/alumni are welcome at this time. Additionally, if you are a media outlet looking to make content around College CoD in some way, feel free to reach out. Inquiries about both topics can be directed to CCL | Marco within the CCL Discord.
Below is the current list of entities who have accepted the invite to Top 25.